Yes, these doctors and med students make house calls
Sarah Braxton has spent most of her life taking care of her family.
First she took care of her daughter, Pretious Latae Walker, who had open-heart surgery when she was 21 and died about four years later. Then it was her mother, Pauline Mason, who had a heart attack and a stroke in her early 30s. She died two years ago on Christmas Eve.
Even with the history of heart disease in her family, it wasn't until recently that Braxton, 51, decided to start caring for herself.
The Miami Gardens resident woke up one morning in early January and knew that something wasn't right. She was having chest pains and was short of breath.
"I kept telling myself that it was going to go away and I was OK," Braxton said. "But I knew in the back of my mind it wasn't. Something was wrong."
She spent one week in the hospital, where she learned about the Green Family Foundation Health Education Learning Program NeighborhoodHELP. Rolled out about six years ago, the program, also funded by the Batchelor Foundation and other nonprofits, pairs students and faculty from Florida International University's Herbert Wertheim College of Medicine and other FIU schools with medically underserved families.
[button size="small" icon="fa-newspaper-o" target="_self" text="Read More…" link="http://www.miamiherald.com/living/health-fitness/article62769587.html"]
The Wertheims join The Giving Pledge
Florida philanthropists Herbert and Nicole Wertheim have joined The Giving Pledge, a commitment by the world's wealthiest individuals and families to dedicate the majority of their wealth to philanthropy.
The Wertheims join Bill and Melinda Gates, Mark Zuckerberg and Warren Buffett, among other global philanthropists, who plan to give most of their money away.
"We are honored to have been invited to join this group of successful and highly dedicated philanthropists," said Herbert Wertheim, a Horatio Alger Medal recipient, who started out as an optometric physician and became an inventor and entrepreneur. "I believe in the power of technology and preventive medicine to improve the quality of our lives and will continue to work to promote those ideas."
[button size="small" icon="fa-newspaper-o" target="_self" text="Read More…" link="https://news.fiu.edu/2016/01/the-wertheims-join-the-giving-pledge/96738″]
Miami philanthropist donates $50 million to UF's College of Engineering
The $50 million donation, through the Dr. Herbert and Nicole Wertheim Family Foundation, will launch a $300 million public and private investment into UF's College of Engineering. The gift will fund the largest expansion of the engineering school in UF's history, school officials said.
[button size="small" icon="fa-newspaper-o" target="_self" text="Read More…" link="http://www.miamiherald.com/news/local/community/miami-dade/article37004298.html"]
FIU'S Biggest Donor was a Boy with holey shoes
Herbert Wertheim is an inventor, pilot, philosopher, philanthropist and university trustee. He also is a charming storyteller. "Telling stories produces endorphins in me," he said. "I love my life."
As the self-made multimillionaire optometrist/entrepreneur who has pledged $20 million to Florida International University for its proposed medical school, his fast-paced stories reflect a many-faceted man.
He has worked his way up from poverty to enormous wealth, from a school boy ashamed of dirty feet because of holes in his sneakers to a man with 100 pairs of "good stylish shoes" in the closets of his seven homes.
[button size="small" icon="fa-newspaper-o" target="_self" text="Read More…" link="http://www.freerepublic.com/focus/f-news/1538338/posts"]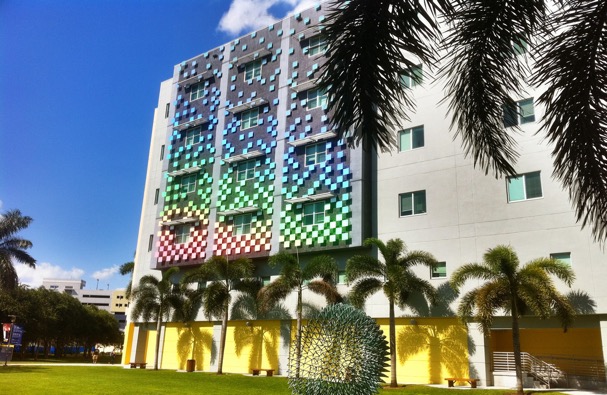 FIU Names New Medical School For Miami Businessman-donor
Herbert Wertheim had a vision to start a medical school at Florida International University, and he spent 10 years and $20 million in his effort to make that happen.
His goal became a reality this year, so FIU officials say it's only fitting the new school be named after Wertheim, a Miami businessman and philanthropist.
The board of trustees named the school the Herbert Wertheim College of Medicine at a meeting Friday.
"He's been a major proponent and a major fighter on behalf of the medical school," President Modesto A. Maidique said. "He's an extraordinary human being with a very big heart."
[button size="small" icon="fa-newspaper-o" target="_self" text="Read More…" link="http://articles.sun-sentinel.com/2006-09-30/news/0609291010_1_medical-school-fiu-school-s-first-five"]